Bike Magazine
Angle of Repose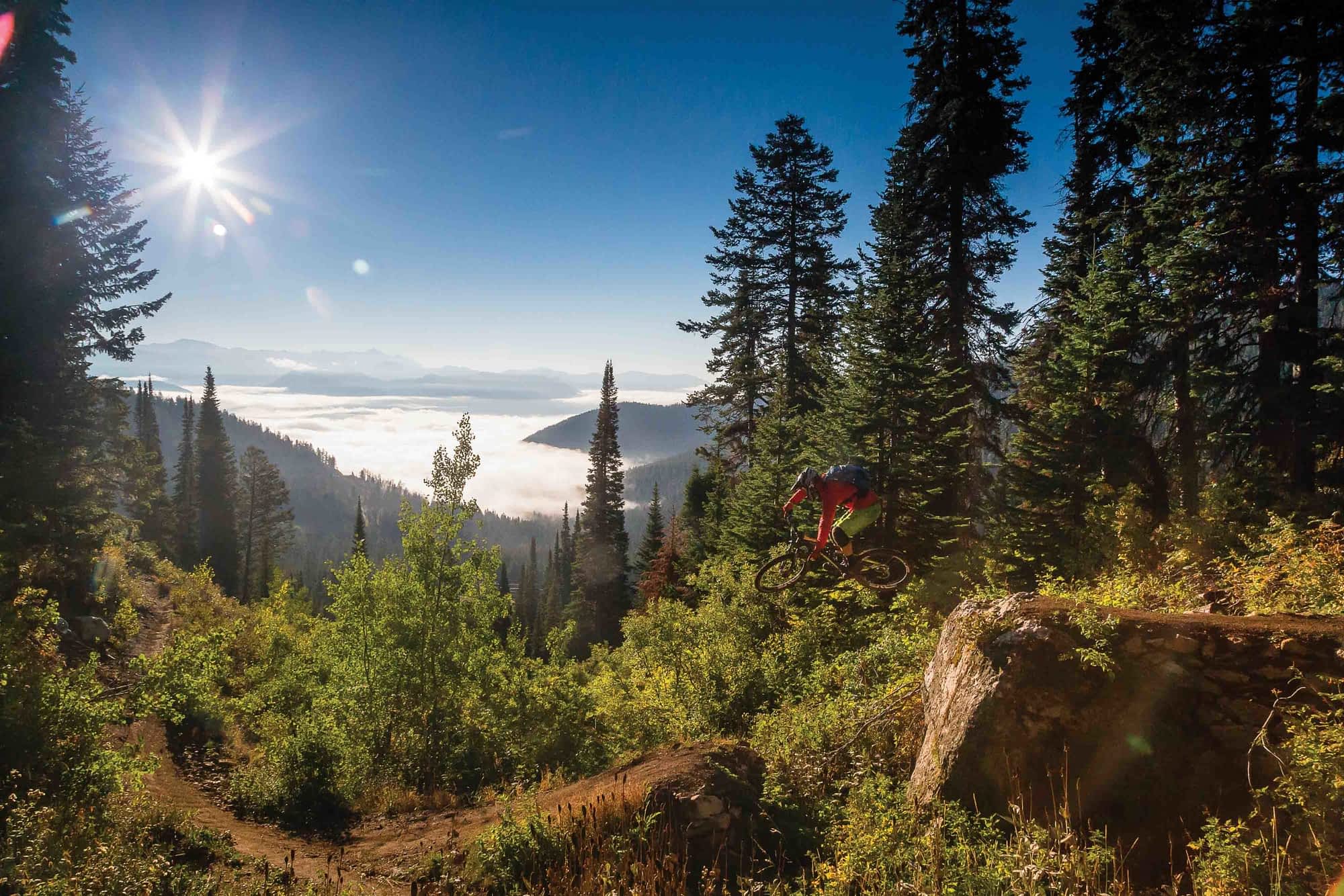 WRITER KIM CROSS
PHOTOGRAPHY JAY GOODRICH
This story originally ran in the June issue of Bike.
THE CRUX OF LITHIUM is a cheese-grater outcrop of limestone, steep and exposed, on a rib of the Tetons. It is the pivotal moment of a downhill trail that plunges, loose and raw, through Bridger-Teton National Forest. The man who built this illegal ride through public land is pointing out lines that appear to require levitation.
"Once you get past that crux," says Harlan Hottenstein, "it's easy." A speed-slowing root precedes a wheel-lift over a knob the size of a toaster oven. Then you must brake and hang a tight right into a perilous off-camber plummet where trust and rubber are the only things holding your wheels to the crumbling rock. At the point of most exposure, the mountain falls away sharply to the right. It's like a bouldering problem with consequences. At the crux, you're committed. Or crashing. Hottenstein rolls in with the confidence of a guy who has solved this riddle hundreds of times, at least once in a yellow chicken suit. At the critical instant, he slows to a track stand–he's a centimeter off the surgical line–and his front tire snags a nub. He puts a foot down but finds nothing but air.
Shit.
The fall is, if not graceful, at least skillful and deliberate. Hot tenstein turns his head and scans for a soft spot to smear and roll. Then he's a blur of plaid whirling down the mountain for 30 vertical feet. Tomorrow, this will hurt. But today, unless he wants that splinter of doubt festering in his psyche, he must dust himself off and ride it again.
This time he levitates.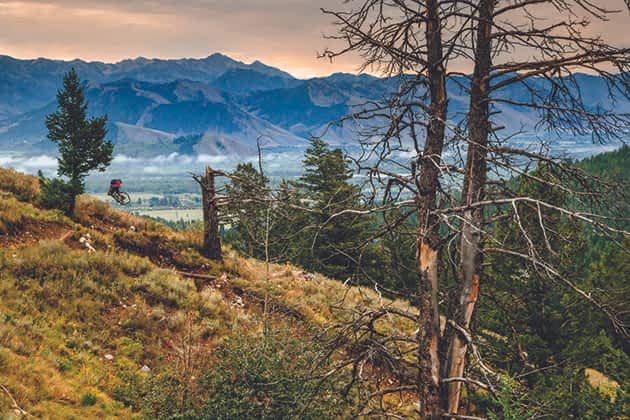 "That's the thing about downhill," Hottenstein says. "It either looks easy or you're crashing."
The same could be said of the last 10 years, a wild and unpredictable adventure that transformed Hottenstein from a gravity pirate into one of the most respected professional trailbuilders in the region. This transcendental gap jump taught him one other important thing about downhill, especially here: It's all about trust. You have to trust the bike. Trust the trailbuilder. Trust gravity. Trust yourself. Every rider who has chased his buddies down a trail knows that a train is held together by trust. Beneath Lithium's hero dirt and babyheads, beneath the gap jumps and switchbacks through evergreens, lies a bedrock layer of trust.
No one knows this better than Hottenstein and the handful of guys who built Lithium in 2000, looking over their shoulders between every swing of the shovel. Once it was discovered, the trail would be closed. It had always been so. They figured it always would.
Lithium was, inevitably, stumbled upon by some hikers who got hurt and called for help from a trail that rescuers could not find on any map. The trailbuilders led them to their secret trail, knowing it meant the end.
It didn't.
It was the beginning of something else. A woman at the U.S. Forest Service did not shut them down.
Where others saw lawbreakers, she recognized talent. She saw a chance for new and better trails–trails she lacked the money and manpower to build–on certain public lands. She offered them a freeride corridor on Teton Pass. In exchange, they had to give up rogue trails that eroded the land and build future ones according to more sustainable guidelines. These trails would be open to everyone. And Lithium could stay.
The future Teton Freedom Riders set down their shovels. Linda Merigliano, a recreation program manager for the Forest Service, extended her hand. In a handshake that forever changed mountain biking in the Tetons, two historically opposing groups decided, cautiously, to trust each other.
HOW NOW, BROWN POW
"Looks like a brown-pow day!" yells rider Jake Hawkes at the top of Teton Pass, a notch in the chain of mountains that divides Jackson Hole from Teton Valley. His job perks include a year-round lift ticket to some sweet slopes and trails, but he shuttles up to the pass every chance he can get. One by one, the train drops into Jimmy's Mom, one of several public trails brought to you by The Handshake. Recent rains have turned the dust into summer's version of a powder day, and you can almost hear the sick days being phoned in.
"This is the first user-specific trail system on National Forest land," says Andrew Whit- eford, a local GoPro athlete.
"Our trail network is one of the best in the country," says Kevin Kavanagh, president of the Teton Freedom Riders, the nonprofit group that formed in 2004 when the Forest Service partnership was formalized. The group now invests 2,000 hours of trail work every year on the pass. "We're the end-all, be-all of public gravity trails."
Our tires bite into berms and flick off booters that launch into a parade of natural features. The hustle and flow of Jimmy's Mom feeds into Candyland, where linked jumps and boulders invite interpretation. These trails ride like a choose- your-own-adventure book, with gaps that will send you into next week and roll-arounds for those who would prefer to stay in the present.
When it's dry, these trails swell with moon dust that swallows every turn. Too much rain turns tires into peanut-butter donuts. But today's hero dirt makes for rides that define everything the rogue trailbuilders were going for.
"We just wanted to go powder skiing in the summertime," says Hottenstein, whose lifelong affair with gravity began on backcountry skis.
To ride these lines is to be drunk on gravity and high on instinct. You can ride a trail a thousand times, and each time it plays out differently. But it tears up a mountain. Fall-line trails plunging down a slope lead to ruts and erosion. They become unrideable, and the sloppy roll-arounds spaghetti all over the place. Wildflower-blanketed alpine slopes are left marred by slow-healing abandoned trails, like scars on a beautiful woman.
Modern trailbuilding standards aim to prevent this. Behind every brilliant trail design lies an understanding of physics and engineering. Merigliano knew if Hottenstein could learn and refine these skills, he could add something singular to the 3,000 miles of trail in Bridger-Teton National Forest.
DIRT DISNEYLAND
From a table at 9,095-foot-high Couloir, the mountaintop restaurant at Jackson Hole Mountain Resort, your house-smoked local buffalo steak competes with views of Jackson Hole in the pink moment of dusk. Those floor-to-ceiling windows illustrate why this is the promised land of conservationists, vacationing billionaires and mutant athletes who are freakishly good at hurtling down steep slopes. It's the same thing that Ansel Adams captured in his iconic portrait of the Teton sisters: extreme topography.
This northwest corner of Wyoming is a mosh pit of mountains, a bunch of ranges colliding and wrinkling the land into a year-round playground of summits and slopes. In the middle of the action are the Tetons, the teenagers of the Rockies, a young north-south range just 40 miles long, seven to nine miles wide and growing an inch a year. They make up for their size with their drama, vaulted 7,000 feet above Jackson Hole without the prelude of foothills.
Throughout this geologic wonderland, trails unspool in every direction, with more flavors than a Chinese buffet. Lift-served flow coasters. Classic downhill–steep, loose and raw. Rustic backcountry epics. Ridgeline trails with unbroken horizons. Happy-hour singletrack just a few turns from après-ride cock- tails in downtown Jackson.
A four-day riding trip here is like an all-access pass to a theme park of dirt–with only 15 minutes to use it. Do you waste time in transit while sampling this embarrassment of riches? Or just ride Space Mountain over and over?
If Space Mountain is your answer, the lift-served trails of Jackson Hole Mountain Resort's growing bike park may be your answer. The six manicured trails make a perfect DH 101 for kids and anyone new to body armor (which comes with bike rentals).
Experienced riders can flex a bit on the wooden bridges and jumps of Bronco and the tight corners of Quick Draw. The buff tabletops yield effortless air and are forgiving enough to make a devout XC racer like IMBA chapter president Dave Treinis start shopping for a big-hit rig.
PIRATE ON PAYROLL
One valley over from Jackson Hole, on the "quiet side of the Tetons," Hottenstein is doing donuts on the western slopes with Chuck Norris. Chuck, his new company vehicle, is a 5-ton mini excavator that can move a lot more dirt than a shovel.
He is bruised and sore from yesterday's crash, and a little hung over from self-medicating at the Royal Wolf, the Driggs dive bar that appears in every mountain town precisely for such purposes. But there's no point in calling in sick to a job that pays him to do what he loves. On this Thursday morning, he is shaping a berm on Otter Slide, a trail that swoops through an aspen grove and features a wallride and a line of jumps.
Otter Slide is his latest addition to Grand Targhee Resort, where trails and events manager Andy Williams had the smarts to hire him and turn him loose on 2,600 acres of possibility. Here in the western foothills, the Tetons' gentler slopes are more conducive to trailbuilding. Exhibit A: Williams' 40- plus miles of XC craftsmanship, including a wildflower romp called Lightning Ridge and the dizzying switchbacks of 38 Special. And now Targhee, a mom-and-pop ski resort that is the burger to Jackson's crabcake, is going all-in on a bet that the Tetons are becoming the best downhilling destination this side of British Columbia.
Hottenstein's talent is written all over this place. He is a sculptor of dirt, able to translate topography into poetry with an engineer's instinct and an artist's eye. He can read the landscape like a sculptor reads stone, seeing in the grain what a trail can and cannot be. And so his trails unwind organically, echoing the spirit of backcountry skiers hungry for fresh tracks, linking natural features in infinite lines.
Compared to Jackson's buff flow trails, many of Targhee's downhill trails are deliberately raw–more rattle, less hum. They're aimed at riders who will appreciate natural features and technical drops. But even on trails designed to accommodate the fat part of the bell curve, a discerning eye can spot multiple lines and optional features–a lip here, a rock there–that shredders can use to their advantage.
Designing for a broad audience is both rewarding and a headache–often at the same time. "It's way more challenging," Hottenstein says. "At the end of the day if it goes in the ground well, it's a cool thing. It's nice to be doing something for someone other than yourself."
MOJO FOR ALL
That a former renegade now draws a steady paycheck for an activity that once could have led to arrest says everything about what's happening in the Tetons. A lot of it can be traced back to the moment of trust that inspired a new model of public-private partnership. The mojo has run downhill on both sides of the pass, influencing trail projects in both valleys.
On the other side of the pass is a valley of opportunity. Framed on three sides by mountains, Teton Valley's less-restricted landscape is already riddled with 400 miles of trails. Most of them are rough and widowed legacy singletrack cut in by dirt bikers, horseback riders and mountain bikers. But a group of devoted locals sees the stoke-generating potential.
"It's this gigantic network of trails and land that's open for trail development," says Scott Fitzgerald, one of the original Teton Freedom Riders and the owner of Fitzgerald's Bicycles in tiny Victor, Idaho. After 10 years in Jackson, 'Fitzy' fell in love with the slower pace and the grassroots vibe of the Teton Valley and moved his shop here. It's a community hub with a coffee bar, a meeting spot for group rides.
After serving as mayor of Victor, he now works closely with
Mountain Bike Teton Valley, a new IMBA chapter, to wrangle grants and get the business community to see trailbuilding as a form of economic development. "This valley is the future of cycling in the area," he says.
Teton Valley is the yin to Jackson Hole's yang. Victor, with a population of around 2,000, has a pumptrack, homes that athletes and young families can afford and a lawnmower racetrack next to the local brewery. Down the road, near Grand Targhee, the town of Driggs has an historic main street where Habitat bike shop sits shoulder to shoulder with a vacant bank crowned with a statue of a giant brown buffalo. 'Wydaho,' as locals call it, doesn't take itself too seriously.
"We're a stepsister to Jackson," says Jay Petervary, a local ultra-endurance rider who lives and trains in Teton Valley. "It's a bit more relaxed. You're able to take big breaths."
Petervary has smoked Alaska's 350-mile Iditarod Trail Invitational in under three days and set records on the 2,745-mile self-supported Tour Divide and the 3,000-mile Race Across America. He is now working with Fitzgerald to bring multi-day bike-packing trips to the Tetons.
Cross-country pro Amanda Carey also lives and trains here year-round. She is a regular fixture on Phillips Ridge, a pass trail that rewards climbs with a long descent on Hottenstein's perfect berms, and at Grand Targhee, where the trails are open to the public and free to ride unless you want to take the lift to the top.
"When I moved to Jackson, there wasn't much for riding–just a few trails at Cache Creek and a lot of horse trails," says Carey, who had never ridden a mountain bike at the time. "Now, 10 years later, we have this amazing trail network. It's unreal. And it keeps getting better."
Carey heads up the Wydaho Rendezvous, a Labor-Day fat-tire fest at Grand Targhee, which sits two hairs over the state line, in Wyoming. Between live bands, you can enter a chainless DH race and demo $40,000 worth of mountain bikes in one weekend.
Jackson Hole has begun to take note of the action in Teton Valley, and the mutual respect between the two valleys is something that may contribute to the region's success in becoming the next big mountain-bike destination.
"Everyone is aware of what's going on, on both sides of the pass," says Fitzgerald, who sees the Forest Service partnership with the Freedom Riders as a replicable model that can work in Teton Valley and other places nationwide. "It's been cool to learn from the Jackson side. Their successes can be repeated and quadrupled over on the Teton side."
GRAVITY'S LAW
At the end of a lap on the pass, helmets and pads are piled up on picnic tables outside the Stagecoach Bar, the unofficial epicenter of DH culture in the Tetons. Across from a filling station affectionately known as Pass Gas, down the road from Wilson Backcountry Sports, where the first meetings of the Freedom Riders took place, this dive bar has been a Jackson Hole institution since 1942.
With pool tables and dartboards inside the dark bar, and a beach volleyball court by the deck, the 'Coach' is an idiosyncratic mix of locals and tourists, riders in body armor and bikers in leather chaps, professional ski bums and weekend warriors. Thursday night is disco night, and Sunday night means Church at the Coach: a happy mess of live bluegrass, folk and country played by the five-member Stagecoach Band that has performed here more than 2,500 nights in the last five decades. Presiding over the band is powder legend Bill Briggs, the first person to ski Grand Teton in 1971.
Outside the Stagecoach, near the bar's drive-through liquor store window, the parking lot is packed with bikes and trucks carrying bikes. If you left your car at the top of the pass, this is the place to catch a ride from a friend or a friendly stranger. Thumbing a ride in Wyoming is against the law, but if you call it 'ride sharing,' you're in the clear.
This is Ground Zero, where it all begins. Before the trails on the pass were legalized, the Coach was a watering hole for the secretive builders, who never, ever talked about their trails in public. Now the Freedom Riders and their dig-day crews come here after touching up a gap jump on Fuzzy Bunny or fixing a reroute on Parallel.
Like reputations and trust, this kind of trail network takes a long time to build and a single breach to destroy. It either looks easy or you're crashing. That fact has not been lost on the riding community.
"It became a social faux pas to build illegal trails," says Kavanagh. "It can jeopardize everything."
And here at Ground Zero, peer pressure enforces what authority cannot. When locals catch wind of rogue trails on public lands, the builder, thumbing a ride up the pass, gets passed by. As a result, today's trails are legal, sustainably designed and well maintained by grants and volunteers who might otherwise be making trouble. The whole thing is held together by trust.
"There's no reason to build illegal trail," says Hawkes, one of the videographers who told the story in the "Freedom Riders" documentary. "I'm someone who has built features and jumps illegally, and now I don't know of a single one."
Additional Images
Teton Mountain Biking, All Rights Reserved by Jay Goodrich
Additional Credits:
Kim Cross, Writer Jay Goodrich, Photographer